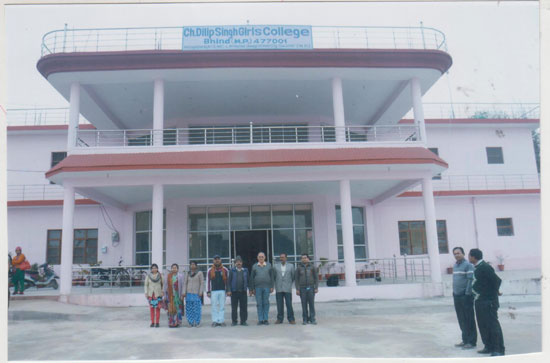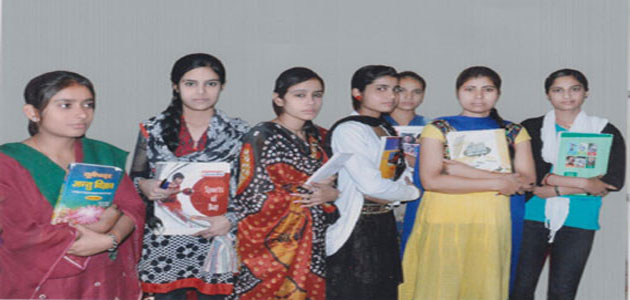 ---
Welcome to Ch. Dilip Singh Girls College
Ch. Dilip Singh Girls College, Bhind (a NAAC accredited 'B' Grade College) run by "JANTA VIDHYALAYA SHIKSHA SAMITI BHIND" was started in a district place at Bhind village, which is border area of Morena and Gwalior districts of Madhya Pradesh.
Ch. Dilip Singh Girls College is a quality teacher education institution in an area which is educationally and economically backward and it makes teaching learning process really challenging for us.
College is recognized by NCTE (WRC) Bhopal and affiliated to Jiwaji University Gwalior. The main campus is 75 KMs away from Gwalior city, 90 KMs from Morena, 120 KMs from Agra and 356 KMs from New Delhi. Nearest Railway Station is Gwalior. Whereas nearest airport is Maharajpura, which 65 KMs from the campus.
The college follows the curriculum and syllabi designed by affiliating Jiwaji University, Gwalior. It has no autonomy to frame, finalize or revise the curricullar aspects. B.Ed. and M.Ed. syllabus were revised during the session 2011-12. The feedback from pupil teachers, academic pears, alumni, teacher educators, staff members are collected, analysed and used for improving the curricular, co-curricular and extra curricular activities.
The college stands committed to make "Student centric" teaching and learning as they come from diverse background and insure that the pupil teachers understand the role of diversity and equality in teaching learning process.